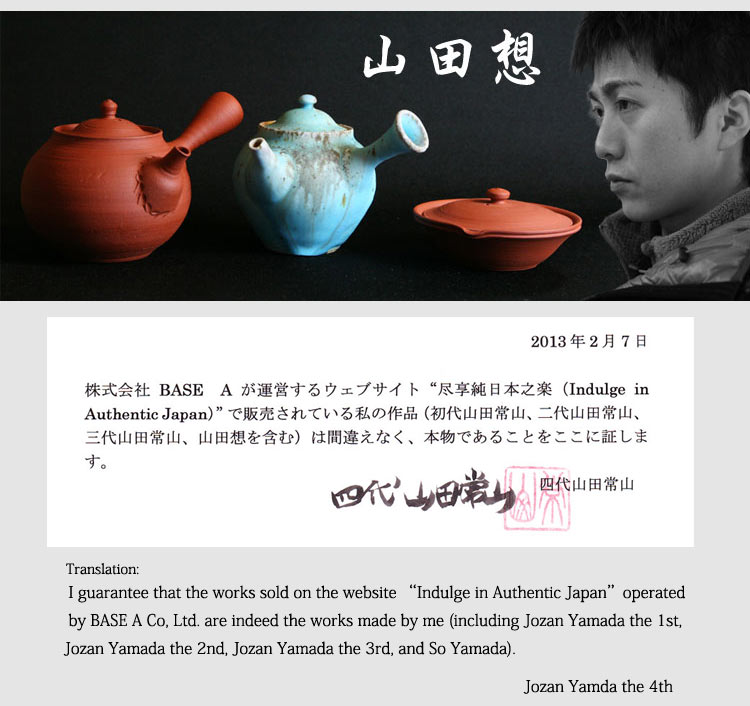 Extra Large Shudei Yuzamashi 420ml, Made by So Yamada, Free Shipping
Made by So Yamada

Made in Japan

Size:Height 7cm * Width 14.3cm * Depth 11cm

Material:Pottery

Capacity:(Max)420ml

Package: Kiri(Paulownia) Wood Box

Shipping Cost

Free Shipping anywhere
Shipping method

We use EMS(Express Mail Service). After we ship the product, it will take 3-10days to arrive at your place. You can track the parcel.
Purchaser of the product must read the below condition carefully.
Return/exchange and refund
We will not accept return/exchange of the product unless the products we sold have any damages or we shipped the wrong item. If we accept the return/exchange, the products must be complete and without any signs of having been used or damaged.

The product is carefully examined before shipping. However, in case there is any damage in the product, you should check the product within 7 days and report to us after receiving it (the days are calculated fromt the proven date of delivery). Otherwise, we will not be responsible for the damage, so please check the quantity, apparent condition, etc., when the product arrives.

The color of the product you will receive might look slightly different from the pictures you see in this web page. This is because depending on the amount of light when the picture was taken, the color in each picture might look different. Please understand, we will not accept return or make refund because of the above reasons.

We will not be responsible for any of the customs clearance and customs duty/tariff payment.



So Yamada
His Grandfather is Jozan Yamada the 3rd who is a Living National Treasure as designated by the Japanese government. His father is Jozan Yamada the 4th.
Even though he was born and raised in a family of traditional potters, which produced a living national treasure, his style is new.
"I want to make works that have a taste of the younger generation. I want to make works that older people would not think of, or even nobody in my generation would think of" he said.
He mainly creates teapots, but he also makes other tea ware such as, sake related potteries, vases, and tableware.
Through generations, The Jozan Yamada Family has been making works of shudei (vermilion red soil), and youhen (discoloration in Japanese) that creates a unique color by ashes falling off and melting on the pottery in a kiln. However, "the blue series" youhen, So's original creation, works by using blue glaze and is made in a Tokoname style kiln that uses firewood and has been used for more than two hundred years locally. At Jozan Yamada's house they have a kiln that has been used for more than 35 years ago.
Whereas his Grandfather, Jozan Yamada the 3rd started making pottery and actualized his talent when he was about 15 years old, So started when he was 21 years old which was a bit late. His Grandfather thought So was not interested in pottery making and the Grandfather almost gave up the idea of making him a potter.
When So was 21, he made his mind to study pottery just like his father and his grandfather. He went to Tokoname Municipal Ceramics Institute, and after graduation he went to Tajimi in Gifu Prefecture making pottery for a year and came back to Tokoname when he was 24.
At the beginning, So's teaching was left to his grandfather, the Living National Treasure, Jozan Yamada he 3rd. Although So's father (Jozan Yamada the 4th) was not taught directly from his father but rather had to learn by only by observing, So was directly taught one-on-one by his grandfather. In fact, his grandfather was fired up saying "I will teach every single technique that I possess to So", and indeed the Grandfather said he taught everything at the end of coaching So.
Everything that So learned outside his family was set to zero. Besides technical guidance, rules of the Yamada Family were also strictly taught. For example, to use a potter wheel, So sat in a chair, but in the Yamada Family, they traditionally sat on the floor. Just like the placement of knives and forks are decided on a table, the placement of tools, such as a spatula, are decided when making pottery. So was taught all of these rules, even how to knead the pottery soil from scratch.
While teaching, his Grandfather often said things like, "one more millimeter smaller" and "that, you should notice immediately by yourself" etc. So was able to understand those words in his head, but many of them were hard to actually understand by feeling. As time passed he gradually started to understand by feeling.
So, who mastered everything from his grandfather?the Living National Treasure?keeps making new works as graceful as anything just like his grandfather.